Pause. Breathe. Choose.:
Become the CEO
of Your Well-Being.
Naz Beheshti began her career as the executive assistant to Steve Jobs at Apple. Jobs, her mentor, is the inspiration behind her new book, Pause. Breathe. Choose.: Become the CEO of Your Well-Being. He had an early and profound influence on her belief that the ultimate wealth is well-being.
Naz's diverse experience includes a decade in the high-stress environments of tech startups, Fortune 500s, and pharmaceutical companies (Apple, Yahoo!, AstraZeneca). In 2012, Naz founded Prananaz, a corporate wellness company that provides custom, high-touch, high-tech programs improving leadership effectiveness, employee well-being, employee engagement, company culture, and business results. Some of her clients include Nike, JPMorgan Chase, Skadden, Coinbase, Gilead Sciences, UCSF, and Columbia University. Prananaz delivers programs, workshops, coaching, consulting, keynotes, and training to teams and organizations of all sizes.
Naz is a regular Forbes contributor with over a hundred published articles on mindful leadership and corporate wellness and is also a contributor for Entrepreneur and Thrive Global. She holds a BA in Psychology from the University of California, Santa Cruz. She is a certified Holistic Health Coach, certified Transformational Coach, certified Advanced NLP (neuro-linguistic programming) Practitioner, certified yoga instructor, and lifelong practitioner, and trained TM (transcendental meditation) practitioner. She also co-founded Rise 2 Shine, a non-profit organization committed to helping alleviate the suffering of young children in Haiti.
Naz lives in New York City with her husband, where they enjoy spending time with their eclectic friends and taking fitness classes. Her global company is based in New York City and San Francisco.
Pause. Breathe. Choose.
Become the CEO of Your Well-Being.
Rooted in neuroscience, mindfulness, and positive psychology, Pause. Breathe. Choose. is a leadership well-being book about making better choices for a better life. This book is an outgrowth of more than twenty years of Naz's work experience at Fortune 500 companies, her first-hand experience learning from luminaries ranging from Steve Jobs to the Dalai Lama, as well as consulting with and coaching international business leaders, entrepreneurs, startups, universities, and major global organizations.
She offers proven, actionable tools and strategies to improve ourselves and our workplace and to achieve sustainable success. Her integrative approach empowers readers to take charge of their well-being and success. Pause. Breathe. Choose. is a guide for self-discovery, better choices, and purposeful growth in work and in life.
Want to read an excerpt from Pause. Breathe. Choose? Click here.
Available at these retailers
Endorsements
"Naz Beheshti's book, Pause. Breathe. Choose., provides practical tools to unlock your highest potential for total well-being."
"Pause. Breathe. Choose. is a go-to guide for anyone who wants to take charge of their life and reach their true potential. You'll be delighted by the beautiful prose and the helpful structure of each chapter. I urge you to let this wonderful book be a game changer for you."
"When I was the chief medical officer of Johnson & Johnson, we operated with the belief that well-being is mission critical. Driving and promoting well-being is about helping each person bring out their best, front and center. Everyone can be their best self regardless of how they look, where they are, or what their profession is. I've had the honor of working with Naz Beheshti on several well-being projects, and after reading her new book, Pause. Breathe. Choose., I believe it brings tremendous value to leaders in the industry who recognize that good health is good business. Naz has eloquently articulated a roadmap to living well and being well, as well as demonstrating the 'how' for leaders to apply well-being principles and create a strong culture of health within their organizations. I highly recommend you read and implement this book!"
"Pause. Breathe. Choose. The title itself conveys everything we need to know to become more thoughtful and fulfilled in work and life. Naz Beheshti's new book reminds us that the pursuit of doing well need not get in the way of well-being. Anyone seeking more fulfillment in their life will find something in this book to help."
"This book helps us take back our power at a time in history when we have been conditioned to place achievement and success over all else. The pressure to succeed and achieve in our society is immense, and with the global pandemic it has intensified to an unbearable degree. Well-being and health are truly our greatest wealth, and Naz Beheshti provides a roadmap back to our authentic selves, our greatest potential, true success, and vibrant well-being. Pause. Breathe. Choose. is a gift to anyone who feels stuck, overwhelmed, powerless, or defeated in career or life in general. As empowering as it is enlightening, this book will help set in motion a new generation of thrivers."
"Naz Beheshti's book, Pause. Breathe. Choose., is a must-read for executives, leaders, and everyone who wants to thrive professionally and personally. The actionable, practical suggestions in the book are gems!"
"This book offers valuable tools to help you deal with all the craziness. Too often we just keep running on the treadmill without thinking about what is really going on. Pausing and becoming more aware is the key — the key to everything. If you want to embody the phrase 'the journey is the reward,' you really ought to read this book!"
"Naz Beheshti's insights into overcoming the challenges and obstacles that get in the way of achieving our goals, pursuing our dreams, and experiencing fulfillment provide both a starting point and a roadmap for taking control of one's life, career, and well-being. Through her experience working for the iconic Steve Jobs, serving in roles at several Fortune 500 companies, and embarking upon a more-than-two-decades-long wellness journey, Naz has established herself as not only a wellness thought leader but as the CEO of her own successful company. As someone who has worked with Naz and her company professionally, I can attest that this book provides access to the wealth of knowledge, practices, and tools that can help companies, as well as individuals, bring well-being and mindfulness into their lives and the lives of their employees and clients. I highly recommend Pause. Breathe. Choose. to anyone who is either in a leadership position or aspires to be in one, and to anyone seeking a guide to help them achieve both personal and professional well-being."
"A clear and inspiring guide to living, working, and choosing a path of profound well-being."
"Taking responsibility and being accountable for our actions and our choices are cornerstones that I believe will set you on a path toward your optimum well-being. In her book, Pause. Breathe. Choose., Naz Beheshti brings together years of passionate service to others, a quest to shine a brighter light on purposeful leadership, and lessons learned from working closely with one of the greatest innovators and minds of our time. Through this lens we get a rare snapshot and blueprint of how each and every one of us can apply for the job and succeed at being the CEO of our well-being."
"Many business leaders forget one important aspect of leading others, and that is to lead with both the head and the heart. Naz Beheshti has studied the techniques of the best leaders and combined that knowledge with her unique style and innovation to present an effective method to integrate every aspect of your best self into your career and life. Read this book and you'll gain confidence in leadership, and your well-being will skyrocket!"
"Pause. Breathe. Choose. is an engaging read, with relevant stories and practical tools. It helped me pause and think about what's most important to me. Naz Beheshti shares a roadmap of small steps that can bring positive energy to every aspect of our lives — challenges and opportunities; work and personal life; physical, mental, and emotional well-being."
Speaking
Below are the most popular topics Naz is often asked to speak about to groups of all sizes, from large formal gatherings and conference keynotes, to workshops, retreats, and boardroom presentations.
• Become the CEO of Your Well-Being
• Build Resilience for Well-Being and Success
• A Holistic Approach to Living Your Best Life
• The Power of Mindfulness in Action
• Boost Energy Levels to Optimize Efficiency and Performance
• The Corporate Athlete Wellness Retreat
• Essential Communication Skills for Meaningful Connections
• Live Your Best Life Now: What I Learned Working for Steve Jobs and Myself
• Healthy Habits for Healthy Living
Book Naz
Executive Coaching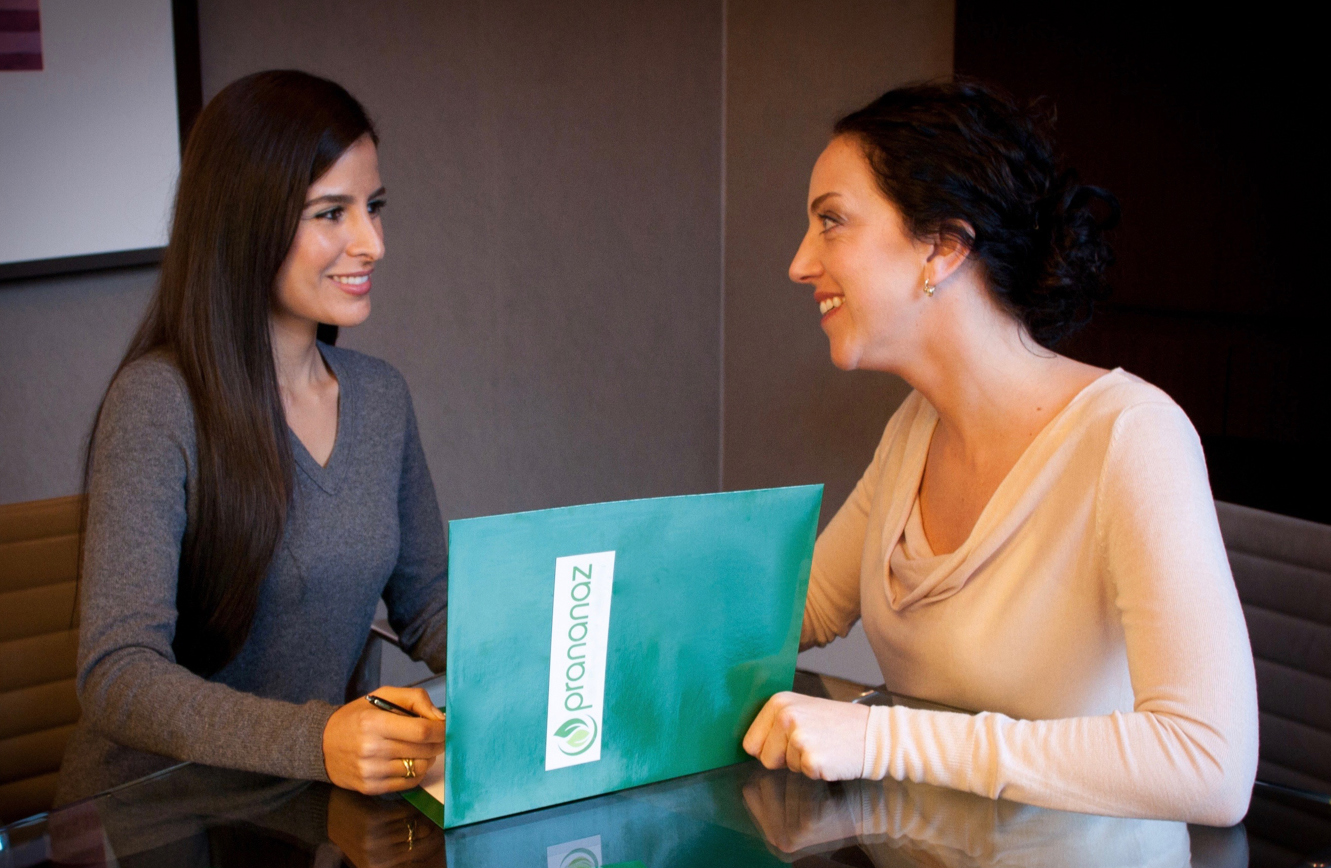 Naz empowers leaders to fulfill their highest business, personal, and social potential through mindset and behavior change. Working at startups and Fortune 500 companies have provided Naz with a deep understanding of the challenges leaders and professionals face in high-pressure environments. She practices a holistic approach to well-being for sustainable change that is rooted in mindfulness, positive psychology, emotional intelligence, and neuroscience. She looks at how all areas of your life are connected. Does stress at work or in your relationship cause you to make poor choices? Does lack of sleep or energy prevent you from performing at the top of your game? Your processes of decision-making, communication, motivation, and learning will become more clear and effective. She helps you move away from what you do not want and move you toward what you want. Her guiding purpose is to empower you to become the CEO of your well-being.
Naz specializes in helping leaders to:
Manage stress, beat burnout, and build resilience
Make better choices and change habits for sustainable well-being
Gain greater clarity, creativity, energy, and productivity
Overcome limiting beliefs and adopt a growth mindset
Develop mindfulness and emotional intelligence
Lead authentically guided by values, awareness, and presence
Boost confidence and lead with intention and purpose
Work through conflict and build trusted relationships
Strengthen communications skills and executive/leadership presence
Cultivate a strong workplace culture and employee engagement
Learn More
Schedule a consultation
Are you choosing to focus on success or obstacles?